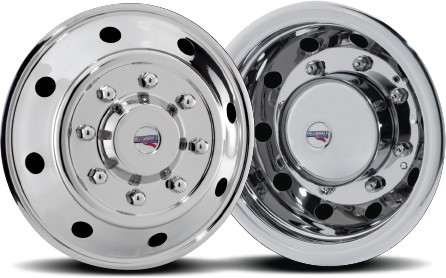 American Road Series
(Round Holes)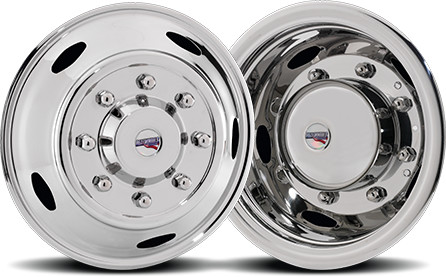 Classic Series
(Oval Holes)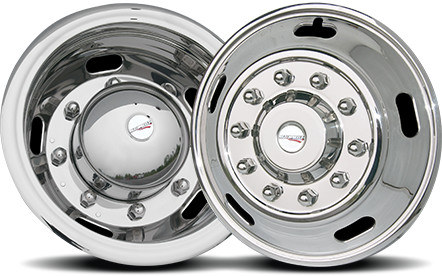 E-Series
(Extruded Holes)
Stainless Steel Simulators offer a front profile and deep rear inset that simulates the look of aluminum wheels.
For standard hub piloted and stud piloted wheels.
High-quality, non-magnetic 304L stainless steel—will not rust, pit, corrode or turn yellow.
Trailer Simulators – Match your trailer wheels to your truck wheels with RealWheels simulators.


Pop-In Centers for easy oil cap viewing.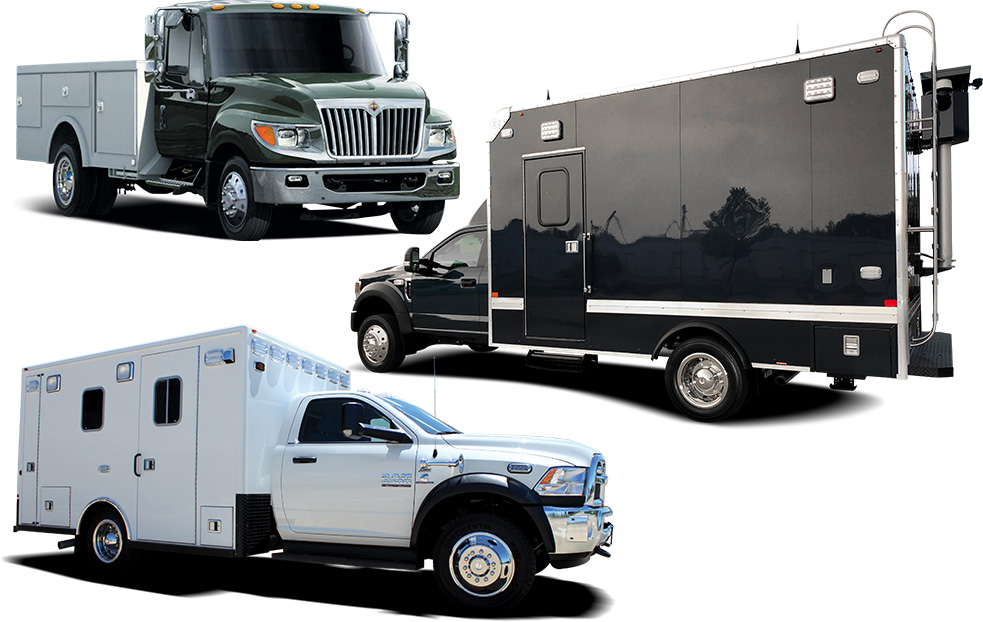 10-Lug For Ford, Chevy & Dodge Wheels (4×4 open center available)
RealWheels has over 30 years' experience developing mounting systems for wheel simulators. Our innovative designs have been awarded numerous patents.
The hook mount systems do not require excess stud.
These systems do not disturb the torque of the lug nuts.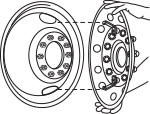 Front Hook Mount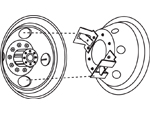 Rear Hook Mount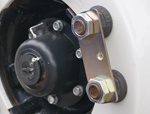 Front Bridge Bracket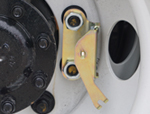 Rear Bridge Bracket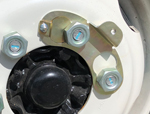 Front Turn & Lock Bracket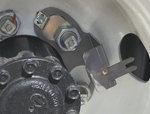 Rear Turn & Lock Bracket
19.5″ Front/Rear Stainless Steel Simulator Kits
Wheel Size
Wheel Part Numbers
Hub/Stub Piloted
Lugs
Hand Holes
Mounting
Style
Model Number
With Extensions
Chevy/GMC P300, H22C, H22K
19.5″ x 6.00″
27775
Clamping Plate w/90° Cone Nuts
10
5
Hook Mount
American Road
RW1900-375AK
RW1900-375AXK
19.5″ x 6.00″
27775
Clamping Plate w/90° Cone Nuts
10
5
Hook Mount
Classic
RW1900-375CK
RW1900-375CXK
Chevy/GMC Kodiak C6500; Silverado 4500, 5500; Freightliner FL50 and FL60; International 4200, 4300, 4400
19.5″ x 6.75″
29719, 50232
Hub (33mm)
8
5
Hook Mount
American Road
RW1900-248AK
RW1900-248AXK
19.5″ x 6.75″
29719, 50232
Hub (33mm)
8
5
Hook Mount
American Road
RW1900-248CK
RW1900-248CXK
Chevy/GMC Kodiak C6500 and Topkick; Silverado 4500HD, 5500HD; Freightliner FL50, FL60, M2 Low Pro, 106 Low Pro; International 4600, 4700, 4900, 4200, 4300, and 4400 Low Pro; Kenworth K170 Low Pro and all Class 5
19.5″ x 6.75″
28612, 28680, 50180
Hub (33mm)
8
4
Hook Mount
American Road
RW1900-280AK
RW1900-280AXK
19.5″ x 6.75″
28612, 28680, 50180
Hub (33mm)
8
4
Hook Mount
Classic
RW1900-280CK
RW1900-280CXK
Ford F-Super Duty (1998-2004)
19.5″ x 6.00″
29186, 29584, 29745
Hub (33mm)
8
5
American Road
RW1901-AOK
RW1901-AOXK
19.5″ x 6.00″
29186, 29584, 29745
Hub (33mm)
8
5
Classic
RW1901-COK
RW1901-COXK
19.5″ x 6.00″
29186, 29584, 29745
Hub (33mm)
8
5
E-Series
RW1901-EOK
RW1901-EOXK
Ford F450 / F550
19.5″ x 6.00″
29839, 29884, 8C34-1015-DB (F2567)
Hub (33mm)
10
5
American Road
RW1902-AOK
RW1902-AOXK
19.5″ x 6.00″
29839, 29884, 8C34-1015-DB (F2567)
Hub (33mm)
10
5
Classic
RW1902-COK
RW1902-COXK
19.5″ x 6.00″
29839, 29884, 8C34-1015-DB (F2567)
Hub (33mm)
10
5
E-Series
RW1902-EOK
RW1902-EOXK
Ford Motor Home
19.5″ x 6.75″
29236, 29585
Hub (33mm)
8
5
American Road
RW1901-336AK
RW1901-336AXK
19.5″ x 6.75″
29236, 29585
Hub (33mm)
8
5
Classic
RW1901-336CK
RW1901-336CXK
Ford F450 / F550 Motor Home; Ford F53 and F59
19.5″ x 6.75″
29879
Hub (33mm)
10
5
American Road
RW19-AF59
19.5″ x 6.75″
29879
Hub (33mm)
10
5
Classic
RW19-CF59
19.5″ x 6.75″
29879
Hub (33mm)
10
5
E-Series
RW19-EF59
Freightliner MT35, MT45, FL50 and FL60; International 4600, 4700, 4900
19.5″ x 6.00″
29388, 28853
Stud (1.5″)
6
2
Bridge Bracket
American Road
RW1906-2AK
RW1906-2AXK
19.5″ x 6.00″
29388, 28853
Stud (1.5″)
6
2
Bridge Bracket
Classic
RW1906-2CK
RW1906-2CXK
19.5″ x 6.00″
28179
Stud (1.5″)
6
6
Bridge Bracket
American Road
RW1906-2AK
RW1906-2AXK
19.5″ x 6.00″
28179
Stud (1.5″)
6
6
Bridge Bracket
Classic
RW1906-2CK
RW1906-2CXK
Freightliner MT35, MT45, FL50 and FL60; International 4600, 4700 and 4900 Low Pro
19.5″ x 6.00″
28179
Stud (1.5″)
6
6
Hook Mount
American Road
RW1900-279AK
RW1900-279AXK
19.5″ x 6.00″
28179
Stud (1.5″)
6
6
Hook Mount
Classic
RW1900-279CK
RW1900-279CXK
Freightliner FL50 and FL60
19.5″ x 6.00″
29715
Hub (33mm)
8
4
Hook Mount
American Road
RW1900-215AK
RW1900-215AXK
19.5″ x 6.00″
29715
Hub (33mm)
8
4
Hook Mount
Classic
RW1900-215CK
RW1900-215CXK
19.5″ x 6.00″
29717
Hub (33mm)
8
4
Hook Mount
American Road
RW1900-217AK
RW1900-217AXK
19.5″ x 6.00″
29717
Hub (33mm)
8
4
Hook Mount
Classic
RW1900-217CK
RW1900-217CXK
Hino, Fuso, Isuzu with 6 lug ball seat wheels
19.5″ x 6.00″
Topy 127
Stud (1.5″)
6
6
Turn & Lock Bracket
American Road
RW1963-27JEK
RW1963-27JEXK
International 4300, 4600, 4700 and 4900 Low Pro
19.5″ x 6.75″
29195
Hub (33mm)
10
5
Hook Mount
American Road
RW1910-395AK
RW1910-395AXK
19.5″ x 6.75″
29195
Hub (33mm)
10
5
Hook Mount
Classic
RW1910-395CK
RW1910-395CXK
Sterling Bullet, Ram 4500 and Ram 5500
19.5″ x 6.00″
10
5
Front Hook, Rear Bridge
American Road
RW1904-3AK
RW1904-3AXK
19.5″ x 6.00″
10
5
Front Hook, Rear Bridge
Classic
RW1904-3CK
RW1904-3CXK

NOTE: All Ford 4-wheel simulators include pop-in center