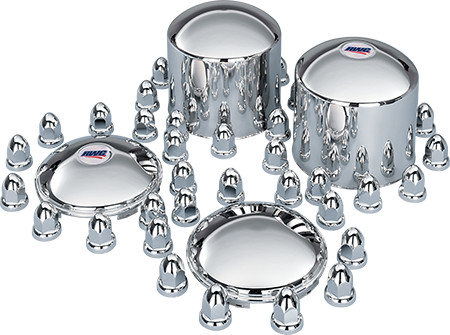 Trim Kit with Lug Nut Covers
4-Wheel Kit: RW8122 6-Wheel Kit: RW8122-2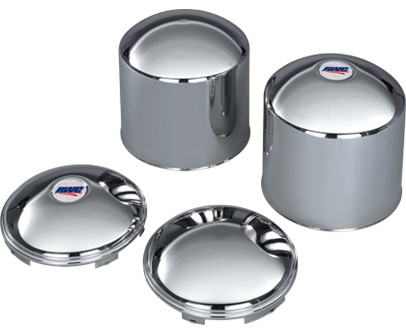 Trim Kit
4-Wheel Kit: RW8102FR 6-Wheel Kit: RW8102FR-2
Universal Front Baby Moon Features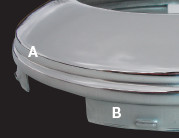 A: Reinforcing bead adds extra strength and covers pilots.
B: Integrated locking tabs require no separate clips.
The Only American-Made Universal Front Axle Covers.

Built to last with heavy gauge 304L stainless steel—up to 91% heavier than the imports.
Available with cutout for oil cap viewing.
Installation is quick, easy and secure!
Fits Them All!
Fits All Front Wheels with 4, 5 or 6 Pilots – Hub or Stud Piloted – Aluminum or Steel Wheels.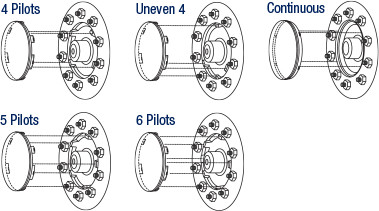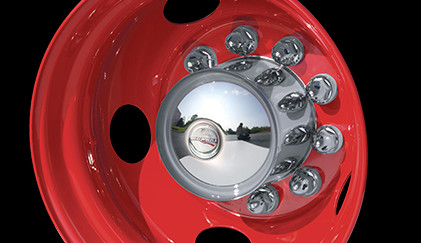 The Only American-Made Rear High Hats.

Wheel manufacturers do not recommend under-the-lug mounting systems. That's why RealWheels Patented High Hat Mounting Systems make so much sense!.
They do not disturb wheel balance.
High Hats fit all steel disc or aluminum wheels whether 8 or 10 lug, hub piloted or stud piloted.
Improved Band Mount Spring Clip High Hat Patented Installation
All 304L Stainless Steel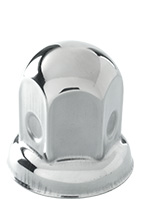 RW5625
33mm w/ 2" flange,
Stainless Steel
Height: 2"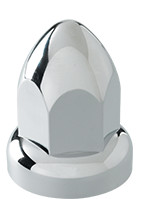 RW5802
33mm with 2" flange,
Chrome Plastic
Height: 2-½"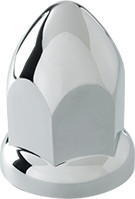 RW5801
1-½" with 2-3⁄16" flange,
Chrome Plastic
Height: 2-3⁄4"
Model Number
Axle
Front Baby Moons
Rear High Hats
Drive Axle Dia.
Lug Nut Covers
Style
RW8102
Single Axle
Solid Center
8″ Tall
8" – 8.75"
Stainless 33mm
with Logo
RW8102NEL
Single Axle
Solid Center
8″ Tall
8" – 8.75"
Stainless 33mm
NO Logo
RW8102FR
Single Axle
Solid Center
8″ Tall
8" – 8.75"
None
with Logo
RW8102FR-2
Tandem Axle
Solid Center
8″ Tall
8" – 8.75"
None
with Logo
RW8102-2
Tandem Axle
Solid Center
8″ Tall
8" – 8.75"
Stainless 33mm
with Logo
RW8102-2NEL
Tandem Axle
Solid Center
8″ Tall
8" – 8.75"
Stainless 33mm
NO Logo
RW8103
Single Axle
Open Center
8″ Tall
8" – 8.75"
Stainless 33mm
with Logo
RW8103NEL
Single Axle
Open Center
8″ Tall
8" – 8.75"
Stainless 33mm
NO Logo
RW8103-2
Tandem Axle
Open Center
8″ Tall
8" – 8.75"
Stainless 33mm
with Logo
RW8103-2NEL
Tandem Axle
Open Center
8″ Tall
8" – 8.75"
Stainless 33mm
NO Logo
RW8104
Single Axle
Open Center
10″ Tall
8" – 8.75"
Stainless 33mm
with Logo
RW8104NEL
Single Axle
Open Center
10″ Tall
8" – 8.75"
Stainless 33mm
NO Logo
RW8104-2
Single Axle
Open Center
10″ Tall
8" – 8.75"
Stainless 33mm
with Logo
RW8104-2NEL
Single Axle
Open Center
10″ Tall
8" – 8.75"
Stainless 33mm
NO Logo
RW8106
Single Axle
Solid Center
8″ Tall
8" – 8.75"
Stainless 33mm
with Logo
RW8106NEL
Single Axle
Solid Center
8″ Tall
8" – 8.75"
Stainless 33mm
NO Logo
RW8122
Single Axle
Solid Center
8″ Tall
8" – 8.75"
Chrome Plastic 33mm
with Logo
RW8122NEL
Single Axle
Solid Center
8″ Tall
8" – 8.75"
Chrome Plastic 33mm
NO Logo
RW8122-2
Tandem Axle
Solid Center
8″ Tall
8" – 8.75"
Chrome Plastic 33mm
with Logo
RW8122-2NEL
Tandem Axle
Solid Center
8″ Tall
8" – 8.75"
Chrome Plastic 33mm
NO Logo
RW8123
Single Axle
Solid Center
8″ Tall
8" – 8.75"
Chrome Plastic 1-1⁄2"
with Logo
RW8123NEL
Single Axle
Solid Center
8″ Tall
8" – 8.75"
Chrome Plastic 1-1⁄2"
NO Logo
RW8123-2
Tandem Axle
Solid Center
8″ Tall
8" – 8.75"
Chrome Plastic 1-1⁄2"
with Logo
RW8123-2NEL
Tandem Axle
Solid Center
8″ Tall
8" – 8.75"
Chrome Plastic 1-1⁄2"
NO Logo
RW8172
Single Axle
Solid Center
8″ Tall
8" – 8.75"
Stainless 33mm
with Logo
* NEL = No Logo