The last Baby Moon you'll ever need to buy! — Built to last with heavy-gauge, 304L stainless steel.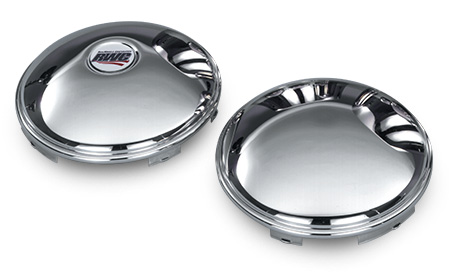 Universal Front Baby Moons
With Logo: RW6215U2 No Logo: RW6215U2NEL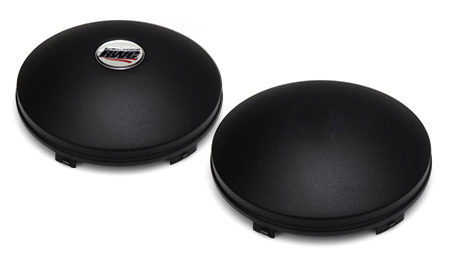 Stealth Black Universal Front Baby Moons
With Logo: RW6215U2BP No Logo: RW6215U2BPNEL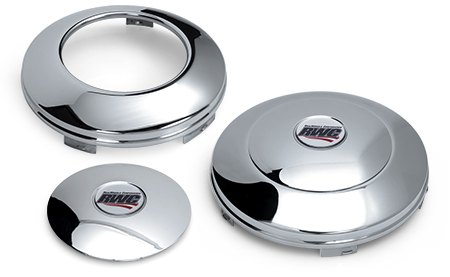 Universal Front Baby Moons with Cut-Out
Open Center: RW6220U2 With Pop-In Center: RW6220U2-1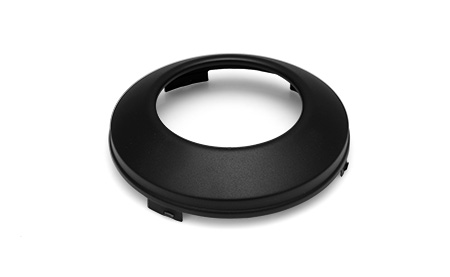 Stealth Black Universal Baby Moon with Cut-Out
RW6220U2BP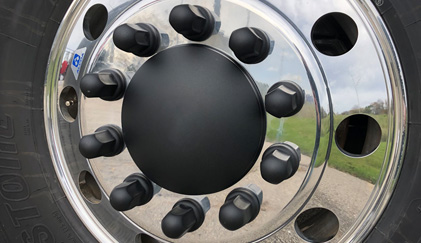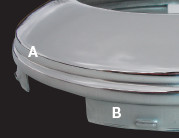 A: Reinforcing bead adds extra
strength and covers pilots.
B: Integrated locking tabs require
no separate clips.
The Only American-Made Universal Front Axle Covers.

Built to last with heavy gauge 304L stainless steel—up to 91% heavier than the imports.
Available with cutout for oil cap viewing.
Installation is quick, easy and secure!
Available in a mirror-shine or stealth black powder-coated finish.
Fits Them All!
Fits All Front Wheels with 4, 5 or 6 Pilots – Hub or Stud Piloted – Aluminum or Steel Wheels.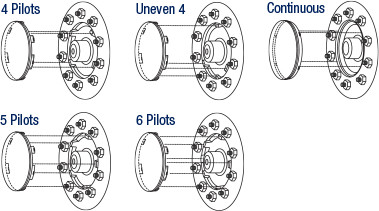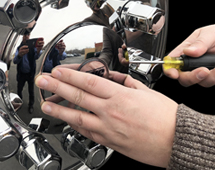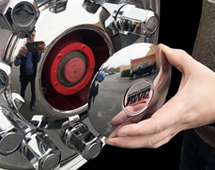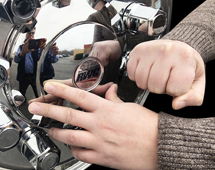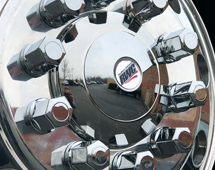 Easy Oil Cap Viewing
This stainless steel baby moon offers the convenience of an open center for easy oil cap viewing with the beauty of a pop-in center. This provides your front axles with a complete finished look. The pop-in center is made from high-impact, chrome-plated ABS plastic. The pop-in center can also be ordered separately and fits any of our Baby Moons with Cut-Outs.
Simple Removal and Reinstallation
To remove pop-in center
Simply use a small flat head screwdriver and carefully insert between the baby moon and the pop-in center. Gently turn the screwdriver until the center pop-out lifts out. You can then pull the center out manually.
To install pop-in center
Simply align with the opening of the of the baby moon and gently tap in place with your hand until it is secure.
Universal Stainless Steel Front Baby Moons
Model Number
Description
Center
Style
RW6211US
has 1″ Lip for Long Locators
Solid
with Logo
RW6211USNEL
has 1″ Lip for Long Locators
Solid
NO Logo
RW6221US
has 1″ Lip for Long Locators
Open Center
RW6214
GMC/Chevy 19.5″ w/4 Even Locators 8 Lug
Solid
with Logo
RW6214NEL
GMC/Chevy 19.5″ w/4 Even Locators 8 Lug
Solid
NO Logo
RW6215U2
Fits 4, 5, 6 Locators
Solid
with Logo
RW6215U2NEL
Fits 4, 5, 6 Locators
Solid
NO Logo
RW6220U2
Fits 4, 5, 6 Locators
Open Center
RW6220U2-1
Fits 4, 5, 6 Locators
Open Center with Pop-In Center
with Logo
RW6217H
Fits Continuous Locator Hub Piloted Lugs
Solid
with Logo
RW6217HNEL
Fits Continuous Locator Hub Piloted Lugs
Solid
NO Logo
RW6217S
Fits Continuous Locator Stud Piloted Lugs
Solid
with Logo
RW6217SNEL
Fits Continuous Locator Stud Piloted Lugs
Solid
NO Logo
RW6218US
Fits 8 Lug/1.5″ Hub Piloted Lugs
Solid
with Logo
RW6218USNEL
Fits 8 Lug/1.5″ Hub Piloted Lugs
Solid
NO Logo
RW6218UC
Fits 8 Lug/1.5″ Hub Piloted Lugs
Open Center
RW6219
Fits Locators Flush to Wheel
Solid
with Logo
RW6219NEL
Fits Locators Flush to Wheel
Solid
NO Logo
RW1005-1CC
ABS Chrome-plated pop in center
Fits RW6218UC, RW6220U2, RW6221US
with Logo
* NEL = No Logo
Stealth Black Universal Stainless Steel Front Baby Moons
Model Number
Description
Center
Style
RW6215U2BP
Fits 4, 5, 6 Locators
Solid
with Logo
RW6215U2BPNEL
Fits 4, 5, 6 Locators
Solid
NO Logo
RW6220U2BP
Fits 4, 5, 6 Locators
Open Center
* NEL = No Logo