20" and 22.5" Super Single Simulators for heavy duty front axles offer the only flush profile in the industry. This flush profile is crucial to maintain mandatory width offsets.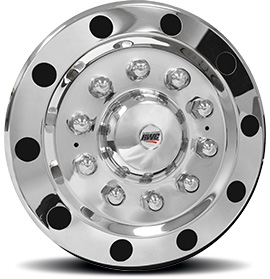 RW1130 w/Pop-In Center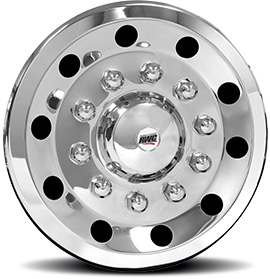 RW1133LKO w/Pop-In Center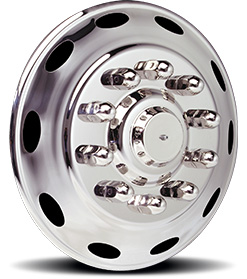 RW1160LK-34C (Classic Style)
Premounted Lug Nut Covers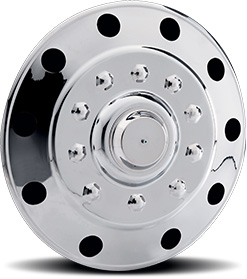 RW1160BK-34A
Lug Nut Bump-out Design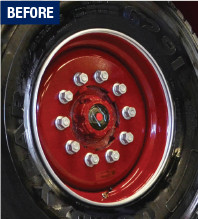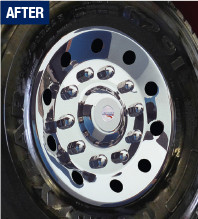 Our simulators install easily on most super single wheels.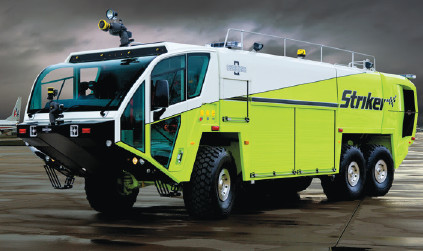 Custom Sizes Available
RealWheels Super Single Covers can be designed to fit any super single wheel, even airport ARFF units.
These super single wheel covers are designed for heavy-rated front axles.
High-quality, non-magnetic 304L stainless steel—will not rust, pit, corrode or turn yellow.
For super single front hub piloted and stud piloted wheels.
Fits 20/22.5 x 12.25 and 13.00 wheels.
Simplified over-the-lug, patented mounting system.
For heavy rated front axles.
Easy D.O.T. Inspection.
Lug Nut Bump-out Design (RW1160BK-34A)
With our Integrated Lug Nut Cover Design, you get the styling of lug nuts, yet cleaning is a snap since you don't have the full lug nut cover to wash around.


Pop-In Centers for easy oil cap viewing.


RealWheels has over 30 years' experience developing mounting systems for wheel simulators. Our innovative designs have been awarded numerous patents.
Simplified over-the-lug patented mounting systems.
Super Single Front Simulators with Pop-In Centers (10 lug)
*For Classic Style change "A" to "C" in model number
| Wheel Size | Wheel Part Numbers | Hub/Stud Piloted | Hand Holds | Bridge Bracket* | Hook Mount* | LKO Mount* |
| --- | --- | --- | --- | --- | --- | --- |
| 22.5 x 9.00 | 28192 | Stud Piloted | 0 | | | RW1133LKO |
| 22.5 x 12.25 | 28126 | Stud Piloted | 0 | | | RW1133LKO |
| 22.5 x 12.25 | 29218 / 29220 / 29815 | Hub Piloted | 2 | | RW1130-24AK | |
| 22.5 x 12.25 | 29054 | Hub Piloted | 5 | | RW1130-34AK | |
| 22.5 x 12.25 | 29806 | Hub Piloted | 5 | RW1130-22101AK | RW1130-306AK | |
| 22.5 x 12.25 | 29807 | Hub Piloted | 5 | RW1130-22101AK | RW1130-307AK | |
| 22.5 x 12.5 | 28803 | Hub Piloted | 5 | | RW1130-33AK | |
| 22.5 x 13.00 | 28803 | Hub Piloted | 5 | | RW1130-37AK | |
Super Single Front Simulators with Center Mount (10 lug)
*For Classic Style change "A" to "C" in model number
| Wheel Size | Premounted Lug Nuts | Lug Nut Bump-out Design |
| --- | --- | --- |
| 22.5 x 9.00 | RW1160LK-34A | RW1160BK-34A |
| 22.5 x 12.25 | RW1160LK-34A | RW1160BK-34A |
| 22.5 x 13.00 | RW1160LK-34A | RW1160BK-34A |