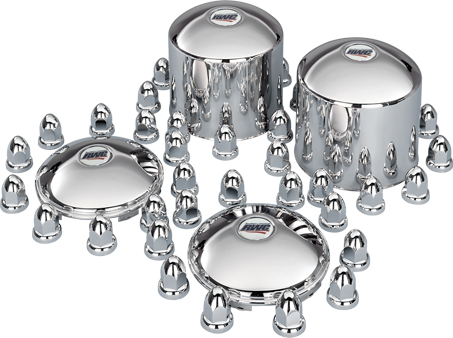 Trim Kit with RW5802 Lug Nut Covers
Single Axle: RW8119  Tandem Axle: RW8119-2
Foam Mount: RW8119SF  Foam Mount: RW8119SF-2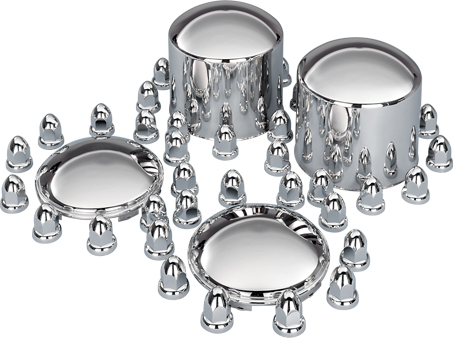 Trim Kit with RW5802 Lug Nut Covers (No Logos)
Single Axle: RW8119NEL  Tandem Axle: RW8119-2NEL
Foam Mount: RW8119SFNEL  Foam Mount: RW8119SF-2NEL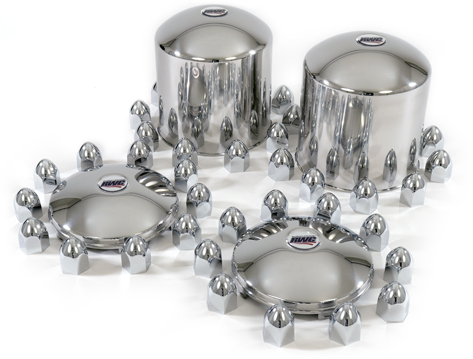 Trim Kit with RW5800 Lug Nut Covers
Single Axle: RW8115  Tandem Axle: RW8115-2
Foam Mount: RW8115SF  Foam Mount: RW8115SF-2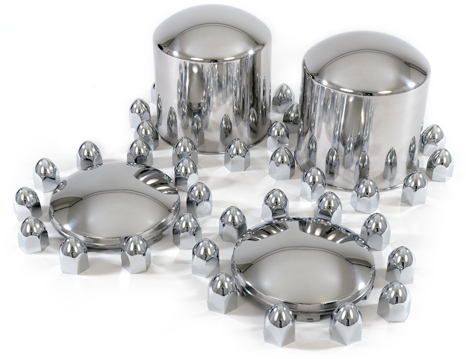 Trim Kit with RW5800 Lug Nut Covers (No Logos)
Single Axle: RW8115NEL  Tandem Axle: RW8115-2NEL
Foam Mount: RW8115SFNEL  Foam Mount: RW8115SF-2NEL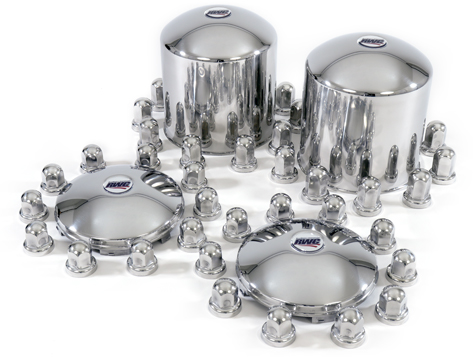 Trim Kit with RW5625 and RW5696 Lug Nut Covers
Single Axle: RW8118  Tandem Axle: RW8118-2
Foam Mount: RW8118SF  Foam Mount: RW8118SF-2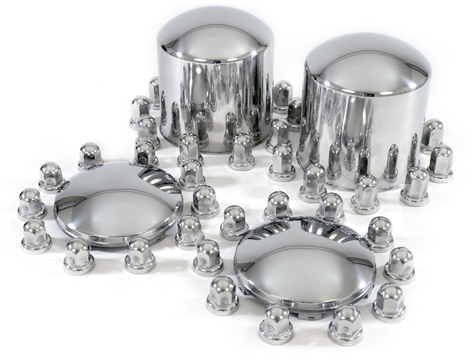 Trim Kit with RW5625 and RW5696 (No Logos)
Single Axle: RW8118NEL  Tandem Axle: RW8118-2NEL
Foam Mount: RW8118SFNEL  Foam Mount: RW8118SF-2NEL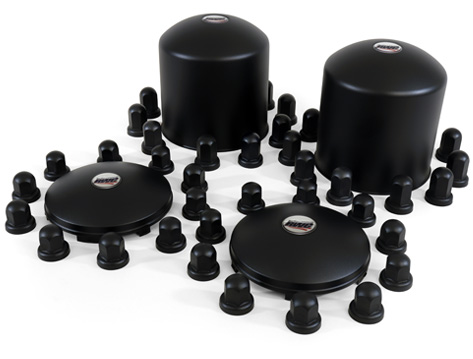 Stealth Black Trim Kit with RW5625 and RW5696 Lug Nut Covers
Single Axle: RW8118BP  Tandem Axle: RW8118-2BP
Foam Mount: RW8118SFBP  Foam Mount: RW8118SF-2BP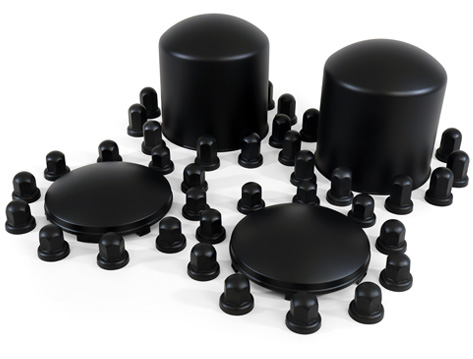 Stealth Black Trim Kit with RW5625 and RW5696 Lug Nut Covers (No Logos)
Single Axle: RW8118BPNEL  Tandem Axle: RW8118-2BPNEL
Foam Mount: RW8118SFBPNEL  Foam Mount: RW8118SF-2BPNEL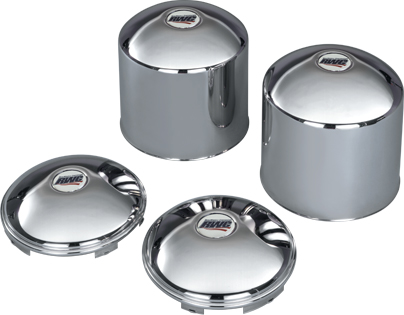 Trim Kit without Lug Nut Covers
Single Axle: RW8106FRNEL Tandem Axle: RW8106FR-2NEL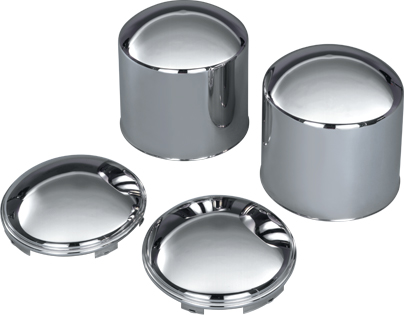 Trim Kit without Lug Nut Covers (No Logos)
Single Axle: RW8106FRNEL Tandem Axle: RW8106FR-2NEL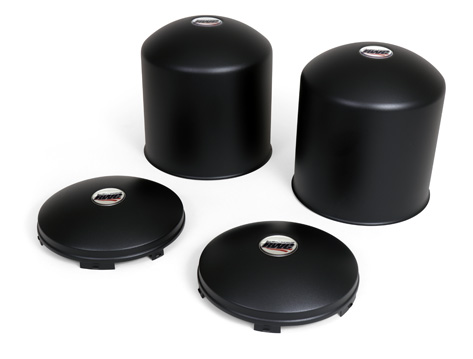 Stealth Black Kit without Lug Nut Covers
Single Axle: RW8106FRBPNEL Tandem Axle: RW8106FR-2BPNEL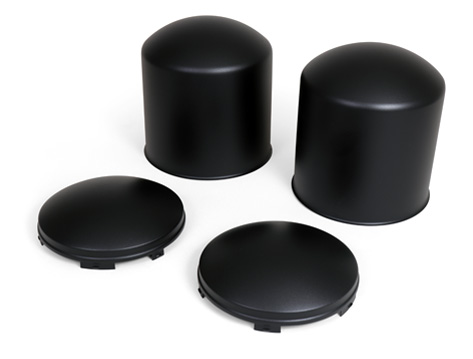 Stealth Black Kit without Lug Nut Covers (No Logos)
Single Axle: RW8106FRBPNEL Tandem Axle: RW8106FR-2BPNEL
Stainless Steel Trim Kit Features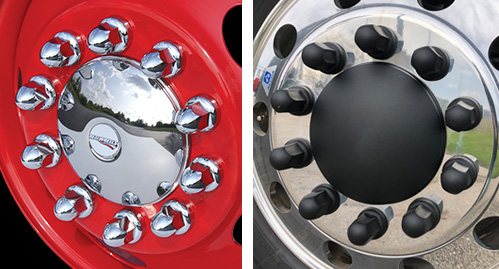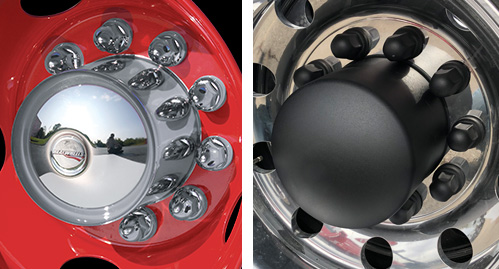 Cover the Truck Axles in One Amazing Kit!

Built to last with heavy gauge 304L stainless steel—up to 91% heavier than the imports.
Kits includes 2 Baby Moons, 2 or 4 High Hats, and Lug Nut Covers
Installation is quick, easy and secure!
Stealth Black Axle Covers and Lug Nut Covers
High-quality 304L stainless steel with a durable black powder-coated finish.
Discover more about our stainless steel axle covers
Click the links below for more information.
Universal Stainless Steel Front Baby Moons >>
Rear Axle Cover Mounting Options
The Rear High Hats of the Stainless Steel Trim Kits come with one of our 2 mounting options
Patented Band Clamp or Standard Foam Mount available
Both install quick, easy and secure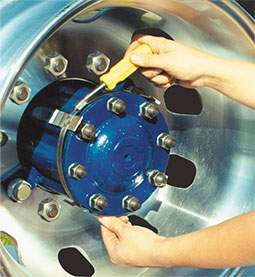 Patented Band Clamp Mounting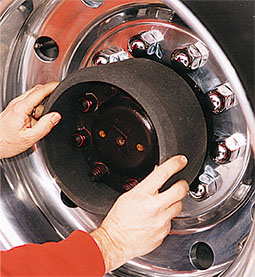 Standard Foam Mounting
RW5802
33mm with 2" flange,
Chrome Plastic
Height: 2-½"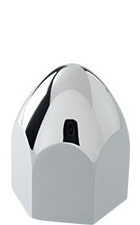 RW5800
1-½", Chrome Plastic
Height: 2-¼"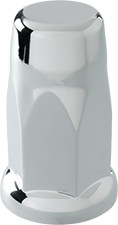 RW5805
33mm w/ 2" flange,
Chrome Plastic, Height: 3-1⁄8"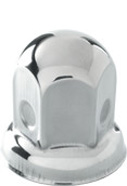 RW5625
33mm w/ 2" flange,
Stainless Steel
Height: 2"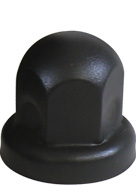 RW5625BP
33mm w/ 2" flange,
Stealth Black
Stainless Steel
Height: 2"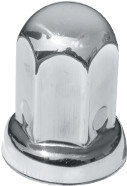 RW5696
33mm w/ 2" flange,
Stainless Steel
Height: 2-9/16"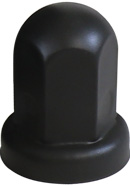 RW5696BP
33mm w/ 2" flange,
Stealth Black
Stainless Steel
Height: 2-9/16"
Model Number (With Logos)
Model Number
(No Logos)
Axle
Front Baby Moons
Rear High Hats
High Hat Mounting
Lug Nut Covers
RW8106FR
RW8106FRNEL
Single
(2) RW6215U2
(2)(10″) RW7719-850
Band Clamp
None
RW8106SFFR
RW8106SFFRNEL
Single
(2) RW6215U2
(2)(10″) RW7719-850
Foam Mount
None
RW8106FR-2
RW8106FR-2NEL
Tandem
(2) RW6215U2
(4)(10″) RW7719-850
Band Clamp
None
RW8106SFFR-2
RW8106SFFR-2NEL
Tandem
(2) RW6215U2
(4)(10″) RW7719-850
Foam Mount
None
RW8115
RW8115NEL
Single
(2) RW6215U2
(2)(10″) RW7719-850
Band Clamp
(40) RW5800
RW8115SF
RW8115SFNEL
Single
(2) RW6215U2
(2)(10″) RW7719-850
Foam Mount
(40) RW5800
RW8115-2
RW8115-2NEL
Tandem
(2) RW6215U2
(4)(10″) RW7719-850
Band Clamp
(60) RW5800
RW8115SF-2
RW8115SF-2NEL
Tandem
(2) RW6215U2
(4)(10″) RW7719-850
Foam Mount
(60) RW5800
RW8118
RW8118NEL
Single
(2) RW6215U2
(2)(10″) RW7719-850
Band Clamp
(20) RW5625 /
(20) RW5696
RW8118SF
RW8118SFNEL
Single
(2) RW6215U2
(2)(10″) RW7719-850
Foam Mount
(20) RW5625 /
(20) RW5696
RW8118-2
RW8118-2NEL
Tandem
(2) RW6215U2
(4)(10″) RW7719-850
Band Clamp
(20) RW5625 /
(40) RW5696
RW8118SF-2
RW8118SF-2NEL
Tandem
(2) RW6215U2
(4)(10″) RW7719-850
Foam Mount
(20) RW5625 /
(40) RW5696
RW8119
RW8119NEL
Single
(2) RW6215U2
(2)(10″) RW7719-850
Band Clamp
(40) RW5802
RW8119SF
RW8119SFNEL
Single
(2) RW6215U2
(2)(10″) RW7719-850
Foam Mount
(40) RW5802
RW8119-2
RW8119-2NEL
Tandem
(2) RW6215U2
(4)(10″) RW7719-850
Band Clamp
(60) RW5802
RW8119SF-2
RW8119SF-2NEL
Tandem
(2) RW6215U2
(4)(10″) RW7719-850
Foam Mount
(60) RW5802
* NEL = No Logo
Trim Kits NOT Pictured
Model Number (With Logos)
Model Number
(No Logos)
Axle
Front Baby Moons
Rear High Hats
High Hat Mounting
Lug Nut Covers
RW8102FR
RW8102FRNEL
Single
(2) RW6215U2
(2)(8″) RW7715-850
Band Clamp
None
RW8102FR-2
RW8102FR-2NEL
Tandem
(2) RW6215U2
(4)(8″) RW7715-850
Band Clamp
None
RW8102
RW8102NEL
Single
(2) RW6215U2
(2)(8″) RW7715-850
Band Clamp
(40) RW5625
RW8102-2
RW8102-2NEL
Tandem
(2) RW6215U2
(4)(8″) RW7715-850
Band Clamp
(60) RW5625
RW8103
RW8103NEL
Single
(2)(Open) RW6220U2
(2)(8″) RW7715-850
Band Clamp
(40) RW5625
RW8103-2
RW8103-2NEL
Tandem
(2)(Open) RW6220U2
(4)(8″) RW7715-850
Band Clamp
(60) RW5625
RW8104
RW8104NEL
Single
(2)(Open) RW6220U2
(2)(10″) RW7719-850
Band Clamp
(40) RW5625
RW8104-2
RW8104-2NEL
Tandem
(2)(Open) RW6220U2
(4)(10″) RW7719-850
Band Clamp
(60) RW5625
RW8106
RW8106NEL
Single
(2) RW6215U2
(2)(10″) RW7719-850
Band Clamp
(40) RW5625
RW8106-2
RW8106-2NEL
Tandem
(2) RW6215U2
(4)(10″) RW7719-850
Band Clamp
(60) RW5625
RW8122
RW8122NEL
Single
(2) RW6215U2
(2)(8″) RW7715-850
Band Clamp
(40) RW5802
RW8122-2
RW8122-2NEL
Tandem
(2) RW6215U2
(4)(8″) RW7715-850
Band Clamp
(60) RW5802
RW8123
RW8123NEL
Single
(2) RW6215U2
(2)(8″) RW7715-850
Band Clamp
(40) RW5800
RW8123-2
RW8123-2NEL
Tandem
(2) RW6215U2
(4)(8″) RW7715-850
Band Clamp
(60) RW5800
RW8172
RW8172NEL
Single
(2) RW6215U2
(2)(8″) RW7714-850
Band Clamp
(40) RW5625
RW8172-2
RW8172-2NEL
Tandem
(2) RW6215U2
(4)(8″) RW7714-850
Band Clamp
(60) RW5625
* NEL = No Logo