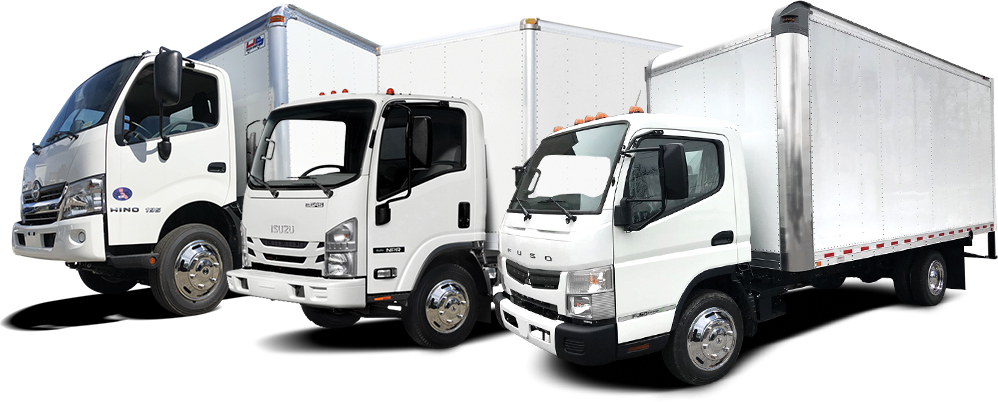 Introducing the Easiest Simulators to Install on your Hino, Fuso or Isuzu.
Simulators For Imports Features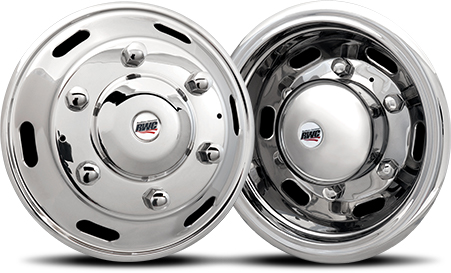 E-Series
(Extruded Holes)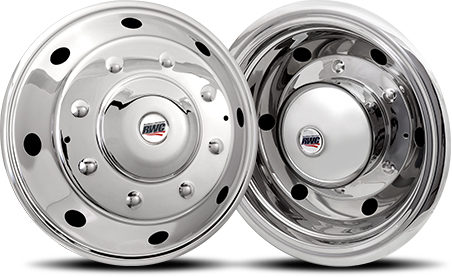 American Road Series
(Round Holes)
Great Looks—Easy Installation!
Simulators Available in Two Styles
E-Series feature extruded holes and lug nut covers.
American Road Series feature round holes and integrated bump-out design, makes cleaning simulators easy—no lug nuts to wash around.
Simulators Feature
Highest-quality, non-magnetic, heavy-gauge stainless steel — will not rust, pit, corrode or turn yellow.
Polished and buffed to a mirror-shine finish.
Easy Turn & Lock installation.
Made in America.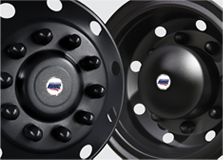 All available with a durable black powder-coated finish—Stealth Series
Installation is simple with our new Patent Pending Turn & Lock Mounting System which is D.O.T. user-friendly.
No special tools required.
No lug nuts to remove.
Simply Turn & Lock!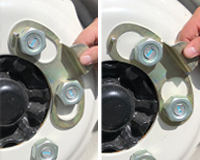 Place the larger openings of bracket base over the lug nuts. Then rotate the bracket counter-clockwise.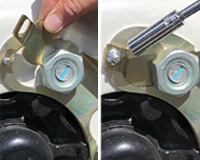 Insert bracket locking tabs into the cavity of the bracket base. Thread nut onto the threaded bolt.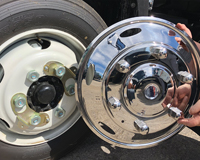 Align holes in the Simulators with the holes in the bracket and secure.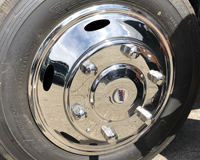 Finished. It's quick and simple.
Front/Rear Stainless Steel Simulator Kits for Imports
E-Series (Extruded Holes with Pre-Attached Lug Nut Covers)
| Model Number | Wheel Size | Hand Holes | Lugs | Description |
| --- | --- | --- | --- | --- |
| RW1663-67JEK | 16″ | 6 | 6-Lug Ball Seat | Front/Rear Kit with Adjustable Brackets |
| RW1763-67JEK | 17.5″ | 6 | 6-Lug Ball Seat | Front/Rear Kit with Adjustable Brackets |
| RW1963-19JEK | 19.5″ | 6 | 6-Lug Ball Seat | Front/Rear Kit with Adjustable Brackets |
| RW1963-27JEK | 19.5″ | 6 | 6-Lug Ball Seat | Front/Rear Kit w/1-piece Brackets for Topy 127 |
| RW1963-35JEK | 19.5″ | 6 | 6-Lug Ball Seat | Front/Rear Kit w/1-piece Brackets for Topy 135 |
American Road Series (Round Holes with Bump-Outs)
| Model Number | Wheel Size | Hand Holes | Lugs | Description |
| --- | --- | --- | --- | --- |
| RW1662-67JK | 16″ | 6 | 6-Lug Ball Seat | Front/Rear Kit with Adjustable Brackets |
| RW1762-67JK | 17.5″ | 6 | 6-Lug Ball Seat | Front/Rear Kit with Adjustable Brackets |
| RW1962-19JK | 19.5″ | 6 | 6-Lug Ball Seat | Front/Rear Kit with Adjustable Brackets |
| RW1962-27JK | 19.5″ | 6 | 6-Lug Ball Seat | Front/Rear Kit w/1-piece Brackets for Topy 127 |
| RW1962-35JK | 19.5″ | 6 | 6-Lug Ball Seat | Front/Rear Kit w/1-piece Brackets for Topy 135 |