Stainless Steel Simulators offer a front profile and deep rear inset that simulates the look of aluminum wheels.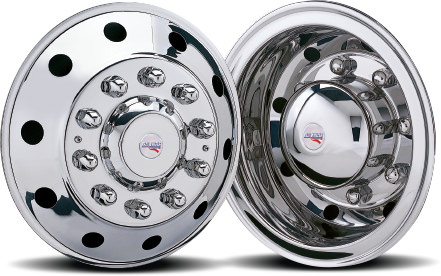 American Road Series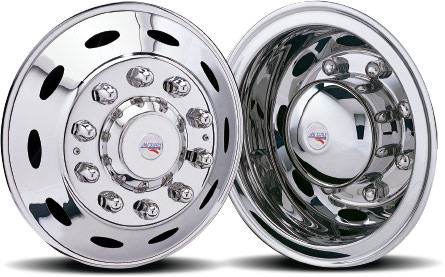 Classic Series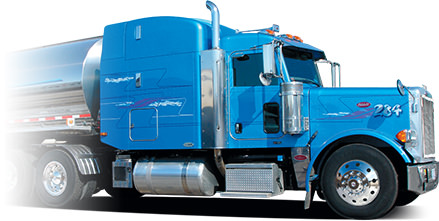 Stainless Steel Simulators really gives your truck an outstanding appearance.
Fits 20 / 22.5 x 7.50 / 8.25 / 9.00 and 22 / 24.5 x 8.25 wheels.
For standard hub piloted and stud piloted wheels.
Rear simulators fit wide-base wheels.
High-quality, non-magnetic 304L stainless steel — will not rust, pit, corrode or turn yellow.
Trailer Simulators – Match your trailer wheels to your truck wheels with RealWheels simulators.


Pop-In Centers for easy oil cap viewing.

RealWheels has over 30 years' experience developing mounting systems for wheel simulators. Our innovative designs have been awarded numerous patents.
Engineered to fit securely to steel disc or aluminum wheels with our patented over-the-lug mounting systems.
The hook mount systems do not require excess stud.
These systems do not disturb the torque of the lug nuts.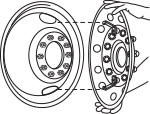 Front Hook Mount

Wedge Lock Mount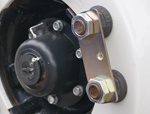 Front Bridge Bracket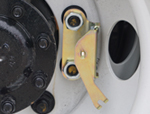 Rear Bridge Bracket
Front Simulator Kits
| Wheel Size | Wheel Part Number | Hub/Stud Piloted | Lugs | Hand Holes | Style | Front Bridge | Front Hook |
| --- | --- | --- | --- | --- | --- | --- | --- |
| 22.5 x 7.50 | 29001 | Hub (33mm) | 10 | 5 | American Road | RW1173-22101AK | RW1173-33AK |
| 22.5 x 7.50 | 29001 | Hub (33mm) | 10 | 5 | Classic | RW1173-22101CK | RW1173-33CK |
| 22.5 x 7.50 | 27403 | Stud (1.5") | 10 | 2 | American Road | | RW1173-23AK |
| 22.5 x 7.50 | 27403 | Stud (1.5") | 10 | 2 | Classic | | RW1173-23CK |
| 22.5 x 8.25 | 90260, 90541 | Hub (33mm) | 10 | 2 | American Road | RW1173-22101AK | RW1173-205AK |
| 22.5 x 8.25 | 90260, 90541 | Hub (33mm) | 10 | 2 | Classic | RW1173-22101CK | RW1173-205CK |
| 22.5 x 8.25 | 28408, 50408 | Hub (33mm) | 10 | 2 | American Road | RW1173-22101AK | RW1173-24AK |
| 22.5 x 8.25 | 28408, 50408 | Hub (33mm) | 10 | 2 | Classic | RW1173-22101CK | RW1173-24CK |
| 22.5 x 8.25 | 28487, 50487 | Hub (33mm) | 10 | 5 | American Road | RW1173-22101AK | RW1173-34AK |
| 22.5 x 8.25 | 28487, 50487 | Hub (33mm) | 10 | 5 | Classic | RW1173-22101CK | RW1173-34CK |
| 22.5 x 8.25 | 90262 | Hub (33mm) | 10 | 5 | American Road | RW1173-22101AK | RW1173-305AK |
| 22.5 x 8.25 | 90262 | Hub (33mm) | 10 | 5 | Classic | RW1173-22101CK | RW1173-305CK |
| 22.5 x 8.25 | 27404 | Stud (1.5") | 10 | 2 | American Road | | RW1173-24AK |
| 22.5 x 8.25 | 27404 | Stud (1.5") | 10 | 2 | Classic | | RW1173-24CK |
| 22.5 x 8.25 | 87460 | Stud (1.5") | 10 | 2 | American Road | RW1173-22101AK | RW1173-260AK |
| 22.5 x 8.25 | 87460 | Stud (1.5") | 10 | 2 | Classic | RW1173-22101CK | RW1173-260CK |
| 22.5 x 8.25 | 87905 | Stud (1.5") | 10 | 2 | American Road | RW1173-22101AK | RW1173-305AK |
| 22.5 x 8.25 | 87905 | Stud (1.5") | 10 | 2 | Classic | RW1173-22101CK | RW1173-305CK |
| 22.5 x 8.25 | 87904 | Stud (1.5") | 10 | 5 | American Road | RW1173-22101AK | RW1173-205AK |
| 22.5 x 8.25 | 87904 | Stud (1.5") | 10 | 5 | Classic | RW1173-22101CK | RW1173-205CK |
| 22.5 x 9.00 | 29039 | Hub (33mm) | 10 | 5 | American Road | RW1173-22102AK | RW1173-59AK |
| 22.5 x 9.00 | 29039 | Hub (33mm) | 10 | 5 | Classic | RW1173-22102CK | RW1173-59CK |
| 22.5 x 9.00 | 29300 | Hub (33mm) | 10 | 5 | American Road | RW1173-22102AK | RW1173-300AK |
| 22.5 x 9.00 | 29300 | Hub (33mm) | 10 | 5 | Classic | RW1173-22102CK | RW1173-300CK |
| 22.5 x 9.00 | 28510 | Stud (1.5") | 10 | 2 | American Road | | RW1173-20AK |
| 22.5 x 9.00 | 28510 | Stud (1.5") | 10 | 2 | Classic | | RW1173-20CK |
| 24.5 x 8.25 | 28409, 28827 | Hub (33mm) | 10 | 2 | American Road | | RW1177-26AK |
| 24.5 x 8.25 | 28409, 28827 | Hub (33mm) | 10 | 2 | Classic | | RW1177-26CK |
| 24.5 x 8.25 | 28641 | Hub (33mm) | 10 | 5 | American Road | | RW1177-36AK |
| 24.5 x 8.25 | 28641 | Hub (33mm) | 10 | 5 | Classic | | RW1177-36CK |
| 24.5 x 8.25 | 27406, 28410 | Stud (1.5") | 10 | 2 | American Road | | RW1177-26AK |
| 24.5 x 8.25 | 27406, 28410 | Stud (1.5") | 10 | 2 | Classic | | RW1177-26CK |
Rear Simulator Kits with Air Valve Extensions
| Wheel Size | Hub/Stud Piloted | Style | Rear Bridge | Rear Wedge |
| --- | --- | --- | --- | --- |
| 22.5″ | Hub (33mm) | American Road | RWWLH2003-AXKI | |
| 22.5″ | Hub (33mm) | Classic | RWWLH2003-CXKI | |
| 22.5″ | Stud (1.5") | American Road | | RWWLS2003-AXK |
| 22.5″ | Stud (1.5") | Classic | | RWWLS2003-CXK |
| 24.5″ | Hub (33mm) | American Road | RWWLH2401-AXKI | |
| 24.5″ | Hub (33mm) | Classic | RWWLH2401-CXKI | |
| 24.5″ | Stud (1.5") | American Road | | RWWLS2401-AXK |
| 24.5″ | Stud (1.5") | Classic | | RWWLS2401-CXK |