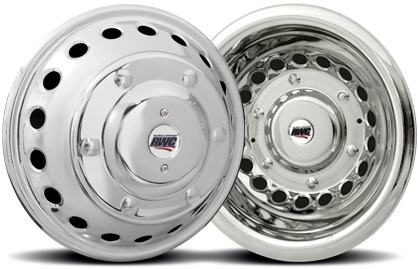 2012 to Current 3500 Sprinter-EZ
16" Dual Wheels with 18 Round Holes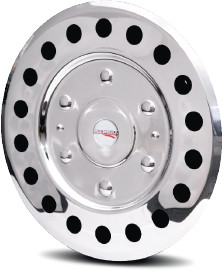 2007 to Current 2500 Sprinter-SL
16" Single Wheels
Additional Sprinter Simulators
2007–2011 3500 Sprinter-CL
16" Dual Wheels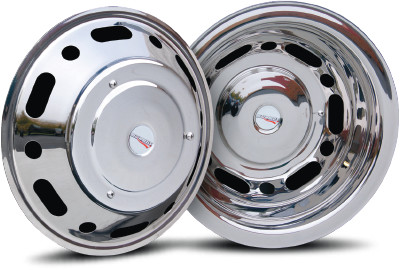 2007–2011 3500 Sprinter-EZ
16" Dual Wheels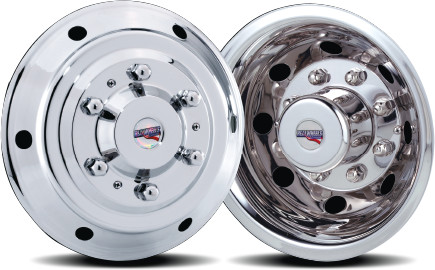 2004–2006 American Road
15" & 16" Dual Wheels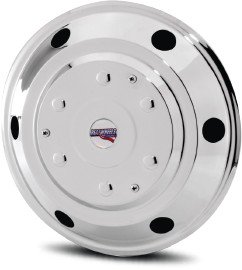 2004–2006 2500 Sprinter
16" Single Wheels
Sprinter Simulator Features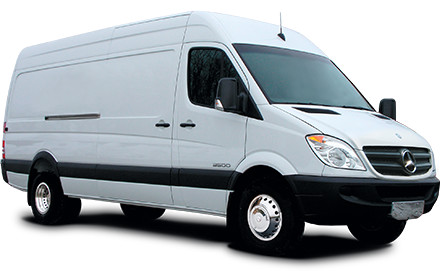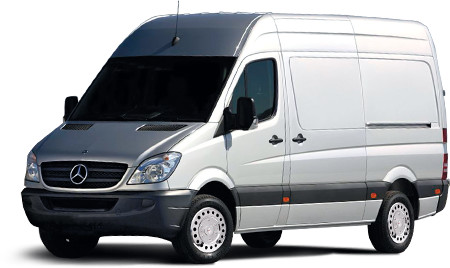 Sprinter simulator design is patterned with the same number of cutouts as the factory wheel and is approved by Daimler Commercial.

We've designed our EZ line of wheel simulators so they are EZ to install, EZ to clean and EZ to maintain. Plus they are offered at a lower price, which makes them EZ to purchase.
Rear simulators have a new, extremely low center cap design that eliminates obstructions when servicing and creates the easiest wheel simulators to maintain and clean.
High quality, heavy-gauge stainless steel.
Patented mounting system — no lug nuts to remove.
Sprinter & custom emblems available.
Single Wheels
Cut-Out Patterns Match Factory Wheels for Improved Air Flow!
Integrated lug nut cover design prevents curbing damage, eliminates missing lug nut covers, and provides easy maintenance.
Sprinter Simulators (American Road style)
| Model Number | Wheel Size | Fits | Extension Kits |
| --- | --- | --- | --- |
| RW1500-2SAK14 | 15″x6″ | 2003-earlier | (no ext.) |
| RW1500-2SAXK14 | 15″x6″ | 2003-earlier | RW1258-3 |
| RW1601-3ABK | 16″x6″ | '04-'06 2500 (single wheels) | (no ext.) |
| RW1603-SAK | 16″x6″ | '07-current 2500 (single wheels) | (no ext.) |
| RW1600-2SAK | 16″x6″ | '04-'06 3500 | (no ext.) |
| RW1600-2SAXK | 16″x6″ | '04-'06 3500 | RW1258-3 |
| RW1602-3SAK | 16″x6″ | '07-'11 3500 | (no ext.) |
| RW1602-3SAXK | 16″x6″ | '07-'11 3500 | RW1258-3 |
| RW1602-12SAK | 16″x6″ | '07-'11 3500 | (no ext.) |
| RW1602-12SAXK | 16″x6″ | '07-'11 3500 | RW1258-3 |
| RW1602-18SAK | 16″x6″ | '12-current 3500 | (no ext.) |
| RW1602-18SAXK | 16″x6″ | '12-current 3500 | RW1258-3 |