Lug Nut Cover with Indicator
Black: RW5810B Yellow: RW5810Y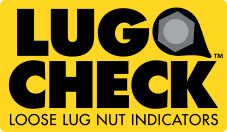 The only lug nut cover that provides safety and good looks.
Lug Check Loose Lug Nut Indicators allow for quick and easy visual inspection.
Fits 33mm lug nuts.
Lug nut cover is designed to accommodate our optional LugCheck Loose Lug Nut Cover Indicators
Optional logo and reflective inserts available. (red, yellow or white available).
High-quality, chrome plated ABS.
Designed in the USA. Imported.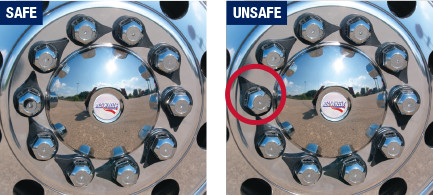 Vibration and bolt fatigue are the leading causes of self-loosening wheel lug nuts and joint failure. Visual inspections by trained mechanics can detect a loosened wheel lug nut, however to an untrained eye, a loose wheel lug nut looks tight. Additionally, many truck, trailer, bus and RV owners dress up their wheels with lug nut covers, so using a Loose Lug Nut Indicator that only fits the bare lug nut is not an option. That's why RealWheels has developed the LugCheck Loose Lug Nut Indicator. It's the only cover that combines the safety of a visual Loose Lug Nut Indicator with the beauty of a chrome plated lug nut cover.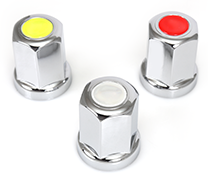 Personalized domed logos or reflective inserts for added safety are available.

Optional Reflectors Dramatically Increase Visibility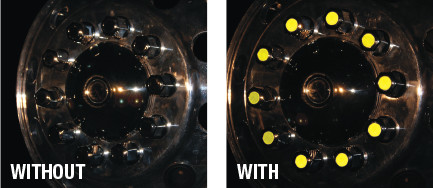 LugCheck™ Lug Nut Indicators
RW1273B
Lug Nut Indicator Only
RW1273Y
Yellow Lug Nut Indicator Only
RW5810
Chrome Plastic 33mm Lug Nut Cover Only
RW5810-RW
Lug Nut Cover with White Reflector
RW5810-RR
Lug Nut Cover with Red Reflector
RW5810-RY
Lug Nut Cover with Yellow Reflector
RW5810B
Lug Nut Cover with Black Indicator
RW5810B-RW
Lug Nut Cover with Black Indicator and White Reflector
RW5810B-RR
Lug Nut Cover with Black Indicator and Red Reflector
RW5810B-RY
Lug Nut Cover with Black Indicator and Yellow Reflector
RW5810Y
Lug Nut Cover with Yellow Indicator
RW5810Y-RW
Lug Nut Cover with Yellow Indicator and White Reflector
RW5810Y-RR
Lug Nut Cover with Yellow Indicator and Red Reflector
RW5810Y-RY
Lug Nut Cover with Yellow Indicator and Yellow Reflector
LugCheck™ Lug Nut Indicators – 10 Packs
RW5810BK
10 Pack – Lug Nut Cover with Black Indicator
RW5810BK-RW
10 Pack – Lug Nut Cover with Black Indicator and White Reflector
RW5810BK-RR
10 Pack – Lug Nut Cover with Black Indicator and Red Reflector
RW5810BK-RY
10 Pack – Lug Nut Cover with Black Indicator and Yellow Reflector
RW5810YK
10 Pack – Lug Nut Cover with Yellow Indicator
RW5810YK-RW
10 Pack – Lug Nut Cover with Yellow Indicator and White Reflector
RW5810YK-RR
10 Pack – Lug Nut Cover with Yellow Indicator and Red Reflector
RW5810YK-RY
10 Pack – Lug Nut Cover with Yellow Indicator and Yellow Reflector