The Easiest TPMS
to Install, Set & Reset
LED AirGuard Set & Go
4-Pack: RW-PPK-0402 6-Pack: RW-PPK-0403
Single: RWTG1236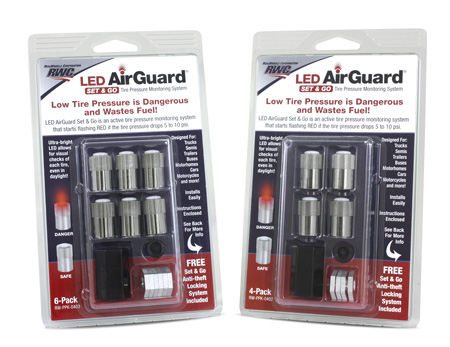 LED AirGuard Set & Go Features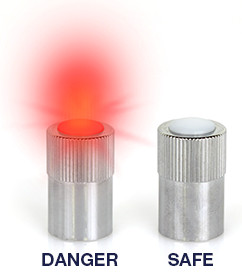 This active tire pressure monitoring system starts flashing RED if the tire pressure drops 5 to 10 psi.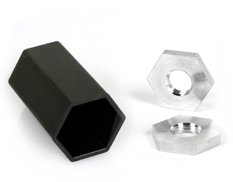 Set & Go Anti-theft Locking System
The use of the Locking Nut to tighten against the Set & Go on the valve stem helps prevent theft.
Safety – Improper tire pressure has a detrimental effect on handling, braking and control.
Longer Tire Life – According to the D.O.T., 95% of all premature tire wear is caused by underinflation.
Self-calibrating – LED AirGuard Set & Go memorizes pressure when initially installed and can be easily recalibrated by simply removing and reinstalling.
Improved Fuel Economy – Proper tire inflation can save an estimated 3% to 5% in fuel costs.
The Set & Go can be used on any commercial vehicle with tire pressure between 20psi and 180psi.
Battery standby time is warranted for 2 years from the date stamped on the LED AirGuard. Batteries are non-replaceable.
Ultra-bright LED allows for visual checks of each tire, even in daylight!
Helps to keep Trucks & Fleets CSA compliant.
Complies with the NFPA 1901 & 1917 Standards for Ambulances and Fire Trucks
Designed in the USA. Imported.
Designed to fit Trucks, Semis, Trailers, Buses, Motorhomes and other Commercial Vehicles!

Tire Pressure Monitoring Kit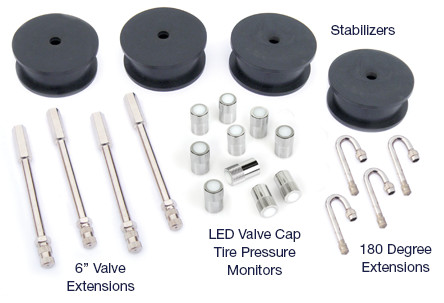 For 19.5", 22.5" & 24.5" Aluminum Wheels w/ Round Holes and 22.5" & 24.5" Standard Steel Wheels w/ Oval Holes
Includes: AirGuard™ Valve Caps, Inner and Outer Air Valve Extensions, plus Air Valve Extension Stabilizers.
POP Packaging & Display Available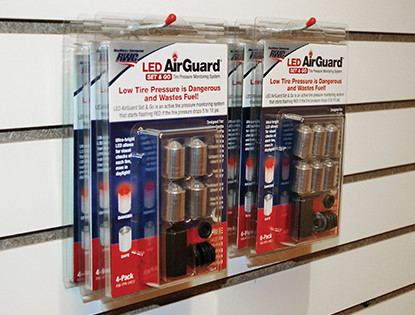 4 or 6-Pack Clamshells for Hook Display
Clamshells packaged 6 per box for hook display or to be used to refill counter display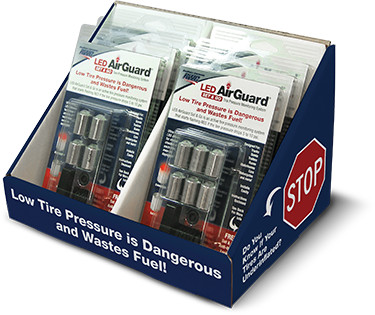 Attractive Counter Display
Clamshells packaged 6 per counter display
Call 1-800-982-1180 for more information and pricing.