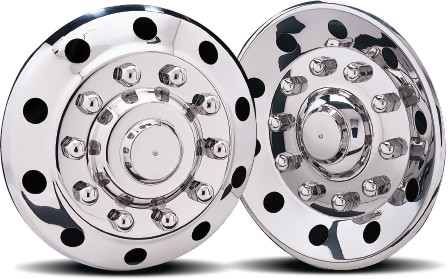 Premounted Lug Nut Covers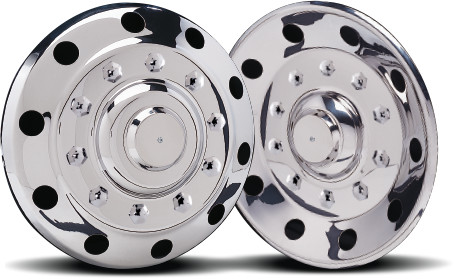 Integrated Lug Nut Covers
No Lug Nut Covers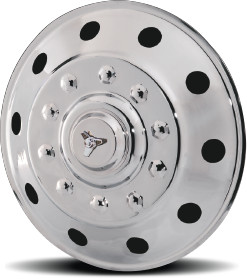 Optional Wing Nut Center Piece
Universal Simulator Features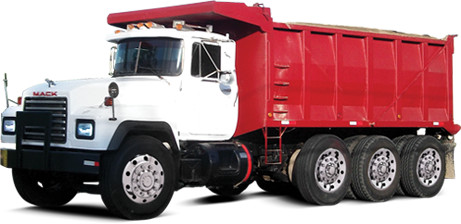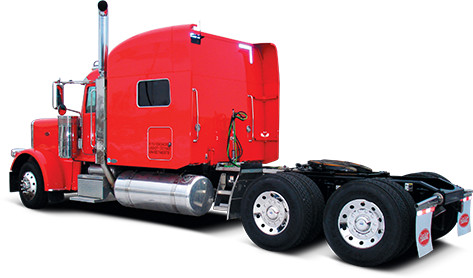 Whether you have an early model truck with cast spoke (Dayton) wheels or a brand new truck with steel disc wheels, these covers fit them all.
Available in sizes to fit 20" & 22.5" and 22" & 24.5".
High-quality, non-magnetic 304L stainless steel—will not rust, pit, corrode or turn yellow.
Easy care and low maintenance for years to come.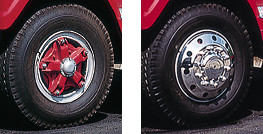 Cast Spoke Wheels
Before and After
Integrated Lug Nuts Feature
With our Integrated Lug Nut Cover Design, you get the styling of lug nuts, yet cleaning is a snap since you don't have the full lug nut cover to wash around.
Universal Simulators are for cast spoke (Dayton) or steel disc wheels. Truly Universal for any wheel. Center mount system makes installation simple and D.O.T. inspections easy.

Center Mount
20″/22.5″ Front Universal Simulators (6 axle bolts, center mount bracket)
| Model Number | Bracket Feature | Style | Extension Kits |
| --- | --- | --- | --- |
| RW1121K-34C | Center Caps | Smooth | (no ext.) |
| RW1121K-34W | Wing Nuts | Smooth | (no ext.) |
| RW1121BK-34C | Center Caps | Integrated Lugs | (no ext.) |
| RW1121BK-34W | Wing Nuts | Integrated Lugs | (no ext.) |
| RW1121LK-34C | Center Caps | Premounted Lug Nut Covers | (no ext.) |
| RW1121LK-34W | Wing Nuts | Premounted Lug Nut Covers | (no ext.) |
20″/22.5″ Rear Drive Axle Universal Simulators (8 axle bolts, center mount bracket)
| Model Number | Bracket Feature | Style | Extension Kits |
| --- | --- | --- | --- |
| RW1021K-UC | Center Caps | Smooth | (no ext.) |
| RW1021K-UW | Wing Nuts | Smooth | (no ext.) |
| RW1021XK-UC | Center Caps | Smooth | RW1258 |
| RW1021XK-UW | Wing Nuts | Smooth | RW1258 |
| RW1021BK-UC | Center Caps | Integrated Lugs | (no ext.) |
| RW1021BK-UW | Wing Nuts | Integrated Lugs | (no ext.) |
| RW1021BXK-UC | Center Caps | Integrated Lugs | RW1258 |
| RW1021BXK-UW | Wing Nuts | Integrated Lugs | RW1258 |
| RW1021LK-UC | Center Caps | Premounted Lug Nut Covers | (no ext.) |
| RW1021LK-UW | Wing Nuts | Premounted Lug Nut Covers | (no ext.) |
| RW1021LXK-UC | Center Caps | Premounted Lug Nut Covers | RW1258 |
| RW1021LXK-UW | Wing Nuts | Premounted Lug Nut Covers | RW1258 |
20″/22.5″ Rear Trailer Axle Universal Simulators (6 axle bolts, center mount bracket)
| Model Number | Bracket Feature | Style | Extension Kits |
| --- | --- | --- | --- |
| RW1021K-510C | Center Caps | Smooth | (no ext.) |
| RW1021K-510W | Wing Nuts | Smooth | (no ext.) |
| RW1021XK-510C | Center Caps | Smooth | RW1258 |
| RW1021XK-510W | Wing Nuts | Smooth | RW1258 |
| RW1021BK-510C | Center Caps | Integrated Lugs | (no ext.) |
| RW1021BK-510W | Wing Nuts | Integrated Lugs | (no ext.) |
| RW1021BXK-510C | Center Caps | Integrated Lugs | RW1258 |
| RW1021BXK-510W | Wing Nuts | Integrated Lugs | RW1258 |
| RW1021LK-510C | Center Caps | Premounted Lug Nut Covers | (no ext.) |
| RW1021LK-510W | Wing Nuts | Premounted Lug Nut Covers | (no ext.) |
| RW1021LXK-510C | Center Caps | Premounted Lug Nut Covers | RW1258 |
| RW1021LXK-510W | Wing Nuts | Premounted Lug Nut Covers | RW1258 |
24.5″ Front Universal Simulators (6 axle bolts, center mount bracket)
| Model Number | Bracket Feature | Style | Extension Kits |
| --- | --- | --- | --- |
| RW1123K-34C | Center Caps | Smooth | (no ext.) |
| RW1123K-34W | Wing Nuts | Smooth | (no ext.) |
| RW1123BK-34C | Center Caps | Integrated Lugs | (no ext.) |
| RW1123BK-34W | Wing Nuts | Integrated Lugs | (no ext.) |
| RW1123LK-34C | Center Caps | Premounted Lug Nut Covers | (no ext.) |
| RW1123LK-34W | Wing Nuts | Premounted Lug Nut Covers | (no ext.) |
24.5″ Rear Drive Axle Universal Simulators (8 axle bolts, center mount bracket)
| Model Number | Bracket Feature | Style | Extension Kits |
| --- | --- | --- | --- |
| RW1023K-UC | Center Caps | Smooth | (no ext.) |
| RW1023K-UW | Wing Nuts | Smooth | (no ext.) |
| RW1023XK-UC | Center Caps | Smooth | RW1258 |
| RW1023XK-UW | Wing Nuts | Smooth | RW1258 |
| RW1023BK-UC | Center Caps | Integrated Lugs | (no ext.) |
| RW1023BK-UW | Wing Nuts | Integrated Lugs | (no ext.) |
| RW1023BXK-UC | Center Caps | Integrated Lugs | RW1258 |
| RW1023BXK-UW | Wing Nuts | Integrated Lugs | RW1258 |
| RW1023LK-UC | Center Caps | Premounted Lug Nut Covers | (no ext.) |
| RW1023LK-UW | Wing Nuts | Premounted Lug Nut Covers | (no ext.) |
| RW1023LXK-UC | Center Caps | Premounted Lug Nut Covers | RW1258 |
| RW1023LXK-UW | Wing Nuts | Premounted Lug Nut Covers | RW1258 |
24.5″ Rear Trailer Axle Universal Simulators (6 axle bolts, center mount bracket)
| Model Number | Bracket Feature | Style | Extension Kits |
| --- | --- | --- | --- |
| RW1023K-510C | Center Caps | Smooth | (no ext.) |
| RW1023K-510W | Wing Nuts | Smooth | (no ext.) |
| RW1023XK-510C | Center Caps | Smooth | RW1258 |
| RW1023XK-510W | Wing Nuts | Smooth | RW1258 |
| RW1023BK-510C | Center Caps | Integrated Lugs | (no ext.) |
| RW1023BK-510W | Wing Nuts | Integrated Lugs | (no ext.) |
| RW1023BXK-510C | Center Caps | Integrated Lugs | RW1258 |
| RW1023BXK-510W | Wing Nuts | Integrated Lugs | RW1258 |
| RW1023LK-510C | Center Caps | Premounted Lug Nut Covers | (no ext.) |
| RW1023LK-510W | Wing Nuts | Premounted Lug Nut Covers | (no ext.) |
| RW1023LXK-510C | Center Caps | Premounted Lug Nut Covers | RW1258 |
| RW1023LXK-510W | Wing Nuts | Premounted Lug Nut Covers | RW1258 |